These drawings are derived either before or after the making of my sculptural elements.
---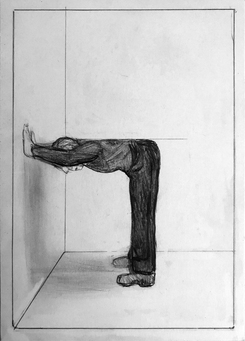 human geometrics 2018
"geometrics" reflects the body in relationship to its bounding walls and shadows. These are claustrophic and the figure is pushing out, or just being. Man in his environment with societal issues pushing in or out. All images are were created in 2018, graphite on acid free paper and 7 x 5 inches. They were designed and drawn on an airplane to and from Ireland.
---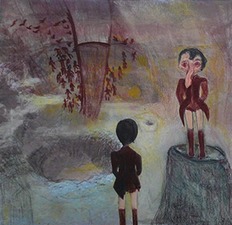 the others 2013 - 2020 | CLICK on the images to enlarge
artist statement/ lou anne colodny

The Others is an exploration of what it means to be visually and culturally "different". This faux society of small, almost identical individuals live in caves, are innovative, and generally peaceful. They live invisibly until a group of "humans" discover them and become alarmed by their appearance and cultural disparities. Once they are discovered, their way of life leads to fear and misunderstanding. A great upheaval ensues and their way of life is threatened resulting in an explosive end…or is it a new beginning?
Contemporary issues concerning man/woman as he is pitted against nature and society has always been the root of my practice. Borrowing imagery from the internet, newspapers and magazines, and mixing them with my imagination has produced this body of work.
The surreal atmosphere of layered compositions leads us to no answers…time and place is not of concern. This series is a surreal and universal appraisal of society today, yesterday and tomorrow. 2018



---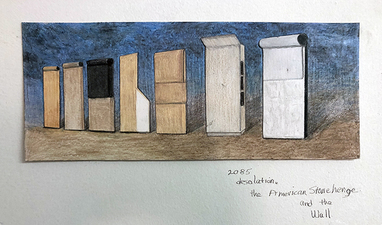 the others 2019-2020
Continuing the saga of "the others" Colodny has reacted to the current political situations in the world and the U.S. Many current policies have taken over her vision.
---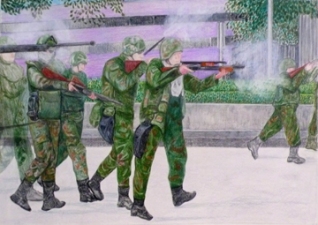 on the street where you live 2012 - 2019
This series is an investigation of contemporary issues as they relate to the erosion of man's freedoms throughout the world. Appropriating images from the web and newspapers, Colodny collages, draws, and manipulates materials to create these images. They are a numbered series as the events depicted could happen anywhere; they are universal.
---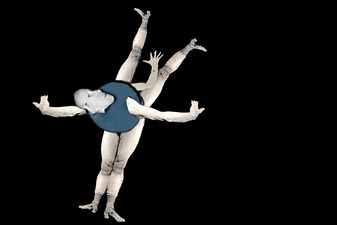 the nature of man 2007
These images were originally created as an animated still for the video "nature of man" The still was created using random images of arms, legs and heads from scanned photos of professional ballet dancers. They were collaged with imaginary forms oto create these animations.

Aristophanes related his views of "the nature of man and love" at Plato's Symposium of Love. His philosophy is the source for this series and the video.
---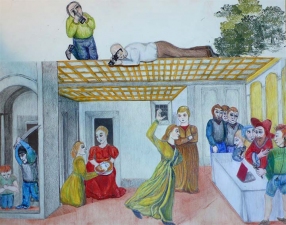 Italian Renaissance Redux 2010
These drawings juxtapose the 21st century with the 14th. "Man's inhumanity to man" is manifested in these appropriated Gonzzoli Benozzo images and illuminated by the frenzy of modern day media.
---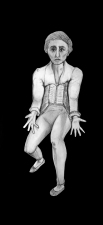 Vestis 2008-9
The source material for this series arises from photographs of Baryshnikov performing a ballet based on Auguste Vestris (1760 - 1842) a French dancer. Vestris was known for his mime techniques, his ability to switch from one character to another and his dance virtuosity. He was known as the "God of the dance". In these vignettes, we see man as he ascends and descends in life. These images are all graphite drawings collaged on archival paper.
---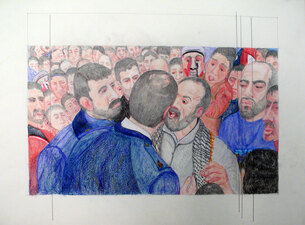 442
Source materials for this body of work include images of sports figures and dancers from contemporary companies. Therefore, there is a disconnect between what's real and imagined as the pictures are taken out of context. The artist explores the physical and emotional states of mankind when encountering forces beyond its control in these images depicting natural and man-made disasters.